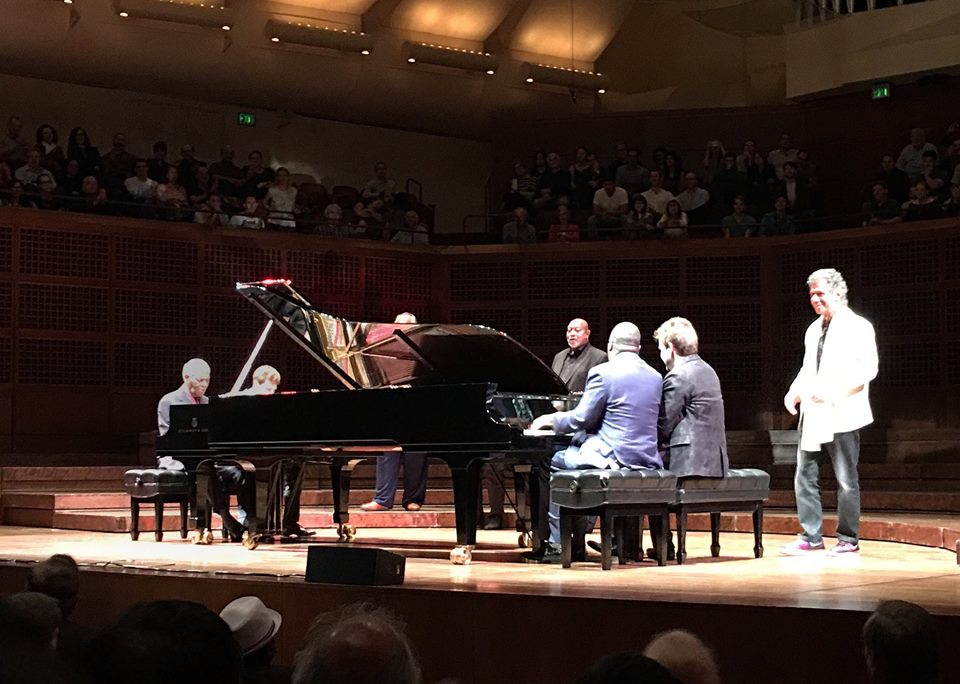 It was an unspeakable honor and privilege to join in concert to tribute my hero and a true holy man of music, Mr. McCoy Tyner (Sulieman Saud), at Louise Davies Hall for the San Francisco Jazz Festival, in the company of the great Kenny Barron, Chick Corea, Joe Lovano, Geri Allen, Marcus Roberts and Taylor Eigsti, on Sunday 6/19.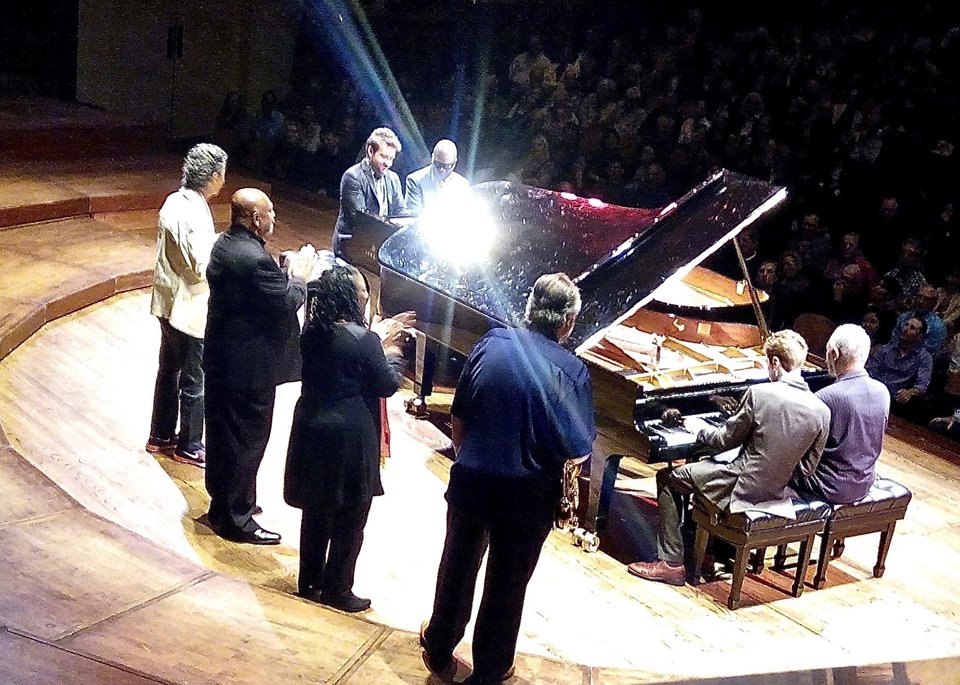 We were all welcomed by a magnificent audience. While backstage I was privy to sit at a table and simply listen to Mr. Tyner reflect candidly (musician-to-musician and not "interview style") with Kenny Barron telling him of how it was for him to hear Mr. Tyner in their native Philadelphia, and Chick Corea speaking of hearing the master in New York City the same year, playing his magnificently beautiful, revolutionary piano for the first time to their ears. I felt that I was in Jazz heaven to hear Mr. Tyner speak with them as fellow musicians and to somehow revisit his youthful enthusiasm about playing with John Coltrane and Elvin Jones. Chick asked McCoy about the music which Coltrane was playing in his quartet toward the end of it's 5-year reign, how there were simple motivic melody fragments and the band would expound with deepest communal expanse as one whole integrated entity. He asked something like "Did John ever give directives such as 'play in G minor here', or would you just hear it and go from there?" and McCoy replied with something like "Oh no - we would just play". I was so tempted to turn on my tape recorder as they spoke, but I didn't want to behave like a school boy and deviate from the pure blessing to sit as a younger musician with these veteran masters.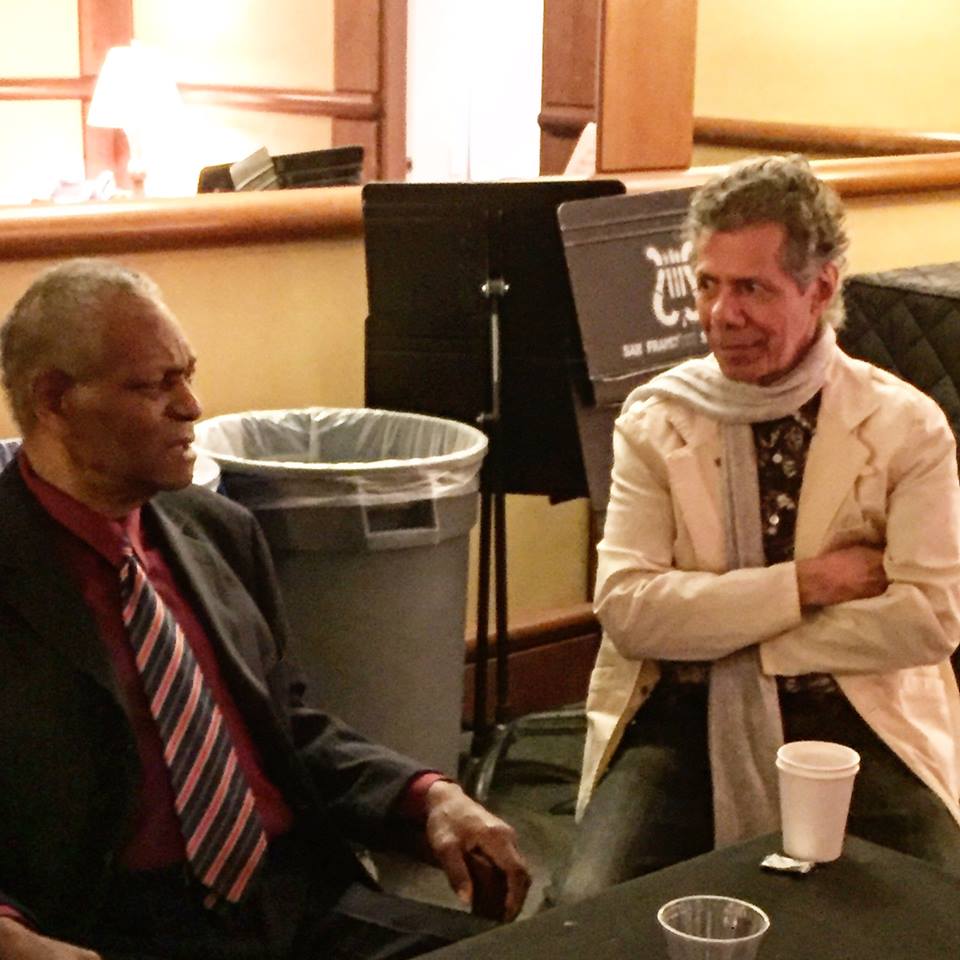 Chick was so kind to everyone involved in the celebration and was clearly making efforts throughout the evening to constantly include each of us in the shared communion, so he turned to me in that moment and said, "Do you have those records, Benny?" so I eagerly qualified "of course, you mean like TRANSITION and SUN SHIP", but I knew of course that it was my place to be thankful to listen and not attempt to insert myself into the dialogue of these wise elders.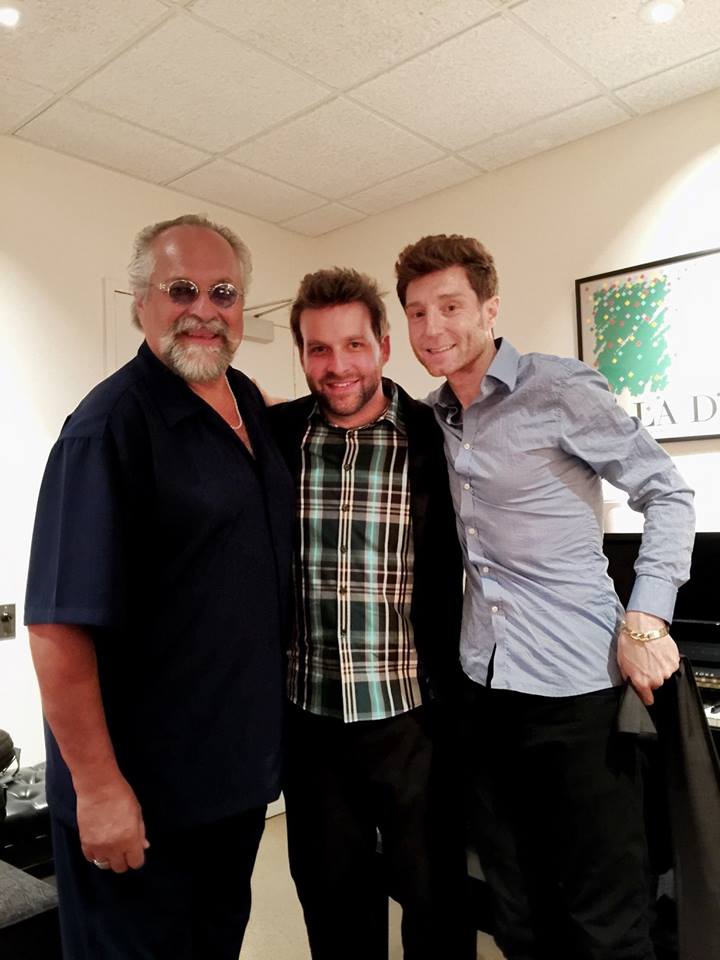 While I've always been quite hesitant to attempt to speak many words to Mr. Tyner, who was my second childhood Jazz Piano hero after Thelonious Monk, I found the courage to thank him for the beauty, joy and inspiration he gives the world, and he thanked me politely, but surely he sensed my nervousness. I had beautiful conversations with each of the other musicians, everyone brought their heart and humility to the forum, and I was elated to perform a piano duet with Marcus Roberts whom I've admired since we were both in our early 20's.
When McCoy began the concert with a solo rendition of the title track of the first record of his which I bought when I was 13, FLY WITH THE WIND, the president of the festival, Randall Kline, and my old "homie" from Berkeley High who was present as a most helpful production coordinator, beautiful Cecilia Engelhart, both realized that this was the piece I'd been practicing for weeks in preparation to perform for the tribute! So in the true spirit of Jazz I of course had to think on my feet and come up with another original of McCoy's to perform impromptu with my mother and sister and a few thousand serious listeners in the house, not to mention Mr. Tyner himself who I wished to tribute faithfully. No time to fret or sweat! Randall and Cecelia ran back to a dressing room with me and both concurred when I played a few alternate choices that I should go with another piece from the same 1976 recording, "Salvadore de Samba", which I played as a piano solo following Marcus and I performing "Contemplation".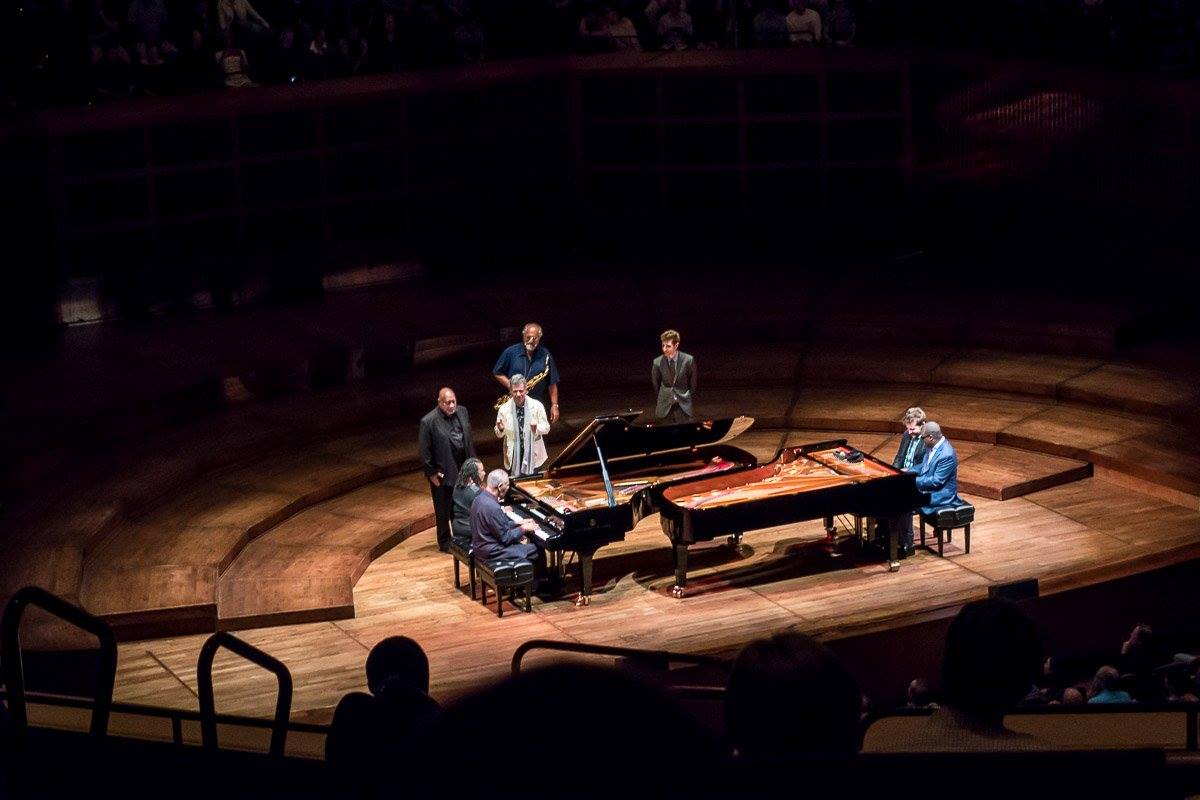 Redemption came flooding my way when the "ice" of my nervousness in the presence of my larger-than-life piano god, McCoy Tyner was mercifully broken when as the concert was ending, the audience called us all back onstage en masse to perform Duke Ellington's "In A Mellowtone". I didn't want to push to join in and listened with my ears wide open to the two pianos, four hands rendition, grateful to be on the same stage as my hero and all of the beautiful masters, colleagues and friends. Finally Kenny Barron and the others, with bright open eyes as though it were Christmas, all urged me toward the Steinway McCoy was playing, to join him in the bass end of the keyboard. Then sweetest redemption came that I will cherish for the rest of my life - as soon as I began walking a bass line with all the will to channel my mentor Ray Brown I could emanate, McCoy smiled so wide towards me and spoke to me as a fellow musician sitting next to me at the instrument while we played - "Yeah, man! Walk on, brother". In that powerfully affirmative healing moment, I put all fear aside and was shown that I am one of the true extended family of Jazz, exactly what I've longed for since I first heard the African-American art form gloriously resounding through my father's Thelonious Monk and Charlie Parker records - to be a part of the living Jazz legacy.
I want to thank McCoy and his kind son Dean, Chick, Kenny, Joe and his lovely wife Judi, Geri, Marcus and his very cool assistant Eugene, my dear friend Taylor Eigsti, the incredible audience and everyone involved in this unforgettable celebration, for all the care and humanity they showed me. If anyone who was in attendance has a photo of me and McCoy Tyner at the piano together, the smiles and love he showed me are an image I'd be extremely grateful to have a memento of, if you'd care to send it my way [please post them in the comments!]. Most of all, THANK YOU McCOY TYNER for making life such a richer, sweeter, invigoratingly colorful eternal thing for us mere humans.
With love and gratitude,
Benny